Church End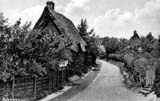 Herts & Beds Express 24/7/69
Thatched cottages and a paradise of roses:
Elected Lords-of-the-Manor helped them win hamlet prize.


Treacle Lane/Alley
The lane at the top of Holly Lane (corruption of Hollow Lane) used to be called Church Farm Lane. It possibly became known as Treacle Lane either because it was so muddy or because of the sweet shop at No 1 (Treacle Cottage) which was run by the Lawmans and closed in the late 1920s. Later known as Hill View. The council houses were built in 1922. Mr Rainbow farmed at the top of the lane after World War Two and the bungalow Rainbow End was built in 1955.

Ernie used to brighten everybody's day. He'd lean his bicycle against the wall, make a small ceremony of untying his bundle of letters, selecting pairs and depositing them in the porch. If you weren't about he'd pat any cat that happened to be around and then depart. If you were visible, however distantly, his "Go' mornin'" would roll like benevolent thunder around the yard; and however anxious or bitter your thoughts, a shaft of sunlight would strike across them.
Ernie's life story never emerged as a whole. He'd always be ready for two minutes gossip - rarely more - in the course of which he'd remembered how he ran away to the circus, and cherished the steam engines of the travelling fairs, and he'd recollect the little market towns throughout Britain where the roundabouts had had their one night stands. But for as long as the now-floating population of the village can remember he's lived in the council houses, with his wife and seven children, who've all now grown into respectable maturity.
The post round took him half a morning, with frequent shortcuts over little used field paths. The only times he was ever upset was when local farmers thoughtlessly rutted them with tractor wheels so that he had to carry his bicycle; and the only time he was furious was when the hunt churned up the public footpath that saved him a three-mile detour.
For the rest of the day he was an agricultural contractor in constant demand. His tackle was no great shakes when he bought it from the Cambridge collective machinery sales; but he nursed it into effectiveness and kept it running sweetly with the little red oil can from which, like his steel-rimmed glasses and his cap, he can have been parted only with difficulty even when he went to bed.
Once a year he'd take his car, which also ran sweetly, despite its age, on a week's holiday which was spent either revisiting the fair stands of his youth or exploring some new wonder that took his fancy, like the Severn Bridge. At the end of it he'd return contentedly to his post round, and his "bit o' baling for Mr Jones over at Bursetts", and making the second-cut hay some old lady had given him from an empty pony paddock, and cutting up on his tractor sawbench the fallen timber that he'd seen and begged during his morning's work for Her Majesty's Postmaster General.
Ernie's retired now, and taking it easier. When he finally goes under the sod his epitaph could be that Her Majesty's PMG never had a more faithful servant, nor the village a better friend. His swan song was at the village supper where he was given a barometer. Ernie lumbered to his feet, rheumatically, smiled his slow chuckling smile, and said "Thank 'ee. 'Er reminds me o' when old Mrs Nash were ill. The doctor had forgot his thermometer, so he took 'er barometer off the wall and popped it down the bed beside her." The smile broadened and the chuckle deepened. "Do you know, when he pulled that old barometer out o' the bed again, guess what it read - 'wet an' windy'!"